The Best Delivery Bags for DoorDash, Grubhub, Postmates and Uber Eats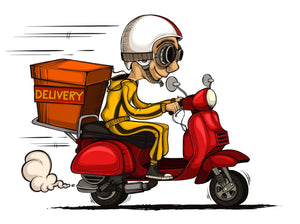 According to recent data, there are more than 1.3 million food delivery drivers in the United States right now. Many of these drivers work for one of the "big four" food delivery networks: DoorDash, Grubhub, Postmates or Uber Eats. In fact, many drivers work for multiple companies! Needless to say, there are plenty of people willing to shuttle food from restaurants to doorsteps all across the country.
Each of the major food delivery companies is concerned with two primary things: getting fresh food into the hands of customers quickly. Many have begun providing support to drivers to accomplish these goals, including selling insulated delivery bags. In fact, each carrier sells its own version of a delivery tote bag, claiming that it's the best way to get food to customers hot and fresh. The question is: what defines the best delivery bags for DoorDash, Grubhub, Postmates and Uber Eats?
Quality matters in a delivery bag
Most of the totes and delivery bags offered by DoorDash, Grubhub, Postmates and Uber Eats are really just the same thing with a different logo on them. The construction boils down to a nylon exterior, lined with thermal foil material, complete with a couple of stitched handles. These bags look as flimsy as they feel and, realistically, they don't do a lot to keep food fresh during delivery.
Now, some companies like Uber Eats do sell more heavily insulated bags. However, the only real difference between these larger bags and their tote counterparts is the replacement of thermal foil with woven aluminum inside. This definitely improves the thermal retention properties of the bag, but not enough to keep foods fresh on extended deliveries of 30-45 minutes.
While totes and insulated backpacks are worlds better than the average brown paper bag that most restaurants hand to a delivery driver, they're only a step in the right direction. The best delivery bags for DoorDash, Grubhub, Postmates and Uber Eats need to insulate food thoroughly, so that it arrives looking, smelling and tasting like it just left the kitchen.
Features of an exceptional delivery bag
The branded bags offered by food delivery companies are nice in theory, but they fall short of what delivery drivers actually need. Stack up thermal totes and insulated backpacks against professional restaurant delivery bags and you'll quickly see the difference quality materials and purpose-driven construction can make:
600 denier heavy-duty imitation nylon exterior is resilient, easy to clean and durable
Leak-proof heat-sealed interior makes it easy to transport hot or cold food
Breathable back lining lets moisture out, to keep food crisp and not soggy
Durable lining material that won't crack or peel with daily, repeated use
Hardboard dividers to stabilize food while in transit, and to separate orders
Double-stitched handle seams that are durable and rip-resistant, even at high weight
For delivery drivers, the most important feature of a restaurant delivery bag is adaptability. You might cycle through orders that include fried chicken, Chinese food, BBQ, sub sandwiches and even ice cream. It's important to be able to use the same bag for each order—whether hot or cold, no matter how far away the delivery destination is. All that, without cross contamination of odors or leftover residues.
Simply put, delivery drivers need a bag that's easy to use, easy to clean and universally adaptable to their delivery schedule—no matter who they're delivering for or what the app throws at them.

A great delivery bag will pay for itself

When comparing a branded tote from DoorDash or Uber Eats to a professional delivery bag, many delivery drivers will balk at the price. Thermal totes average between $10-$15, while the price of a professional delivery bag will often exceed $50-60. It's important to have a fundamental understanding of the value associated with the professional delivery bag vs. the simple tote.
Tote bag
While it might only cost $10-$15, the tote itself won't hold up to the wear and tear of everyday use that comes from a regular delivery driver's schedule. As the seams break down and the interior lining gives away, the tote can become more of a liability than an asset. If, for instance, you replace the tote four times in a year, it amounts to $40-$45: roughly the cost of a professional delivery bag.
Delivery bag
The upfront cost of the best delivery bags for DoorDash, Grubhub, Postmates and Uber Eats is offset by the ROI of the bag. A quality bag will allow you to take further deliveries, which equate to higher tips. Moreover, happy customers are better tippers! If you average $1-2 more in tips thanks to your delivery bag, it'll pay for itself in 20-30 deliveries (less than a week). Moreover, the quality construction of a professional bag will last years!
The ability to deliver further and provide customers with a higher quality of food are direct results of investing in a premium insulated delivery bag. Deliver drivers need to see the higher cost as an investment: one that will pay dividends with every delivery.
Delivery bags help drivers roll with the punches
Beyond an investment in better tips and happier customers, delivery drivers can count on the best delivery bags for DoorDash, Grubhub, Postmates and Uber Eats to safeguard them against the unforeseen.
What happens when you brake hard to avoid an accident and the food on the seat goes flying? How can you guarantee a hot, fresh delivery when you get stuck in rush hour traffic? These are situations that will befall even the best food delivery drivers, and having food well-preserved in a delivery bag is the solution that keeps them sane. No more cleaning Chinese food off your dashboard. No more rock-hard chicken or melted ice cream due to traffic. A delivery bag helps drivers ensure that, no matter what the road throws at them, they'll still meet customer expectations.
Step up your delivery game
The simplest way to step up your delivery game isn't to step on the gas pedal or try to strategically combine delivery routes: it's to invest in a food delivery bag you can count on. No matter which company you drive for or how many deliveries you complete each day, a delivery bag is an investment in your ability to make more money by ensuring a higher caliber of delivery. Just make sure you're buying a bag that's up for the challenge—not something that'll break down when you put it to the test.