In the New Era of 'Ghost Kitchens,' Delivery Excellence is Paramount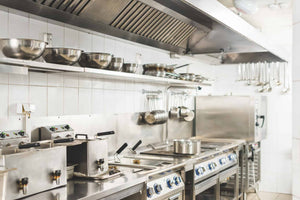 If you're like most people, you probably ordered food quite a bit more in 2020. Delivery trends saw an unprecedented rise during the pandemic; but even still, it wasn't enough to completely make up for the lack of in-house dining. For many local restaurants, it means pivoting their business model to cater to delivery and carry-out, as opposed to dine-in service. At its most extreme, this changing business model has resulted in a phenomenon called "ghost kitchens."
Ghost kitchens are delivery-only restaurants. In some cases, they're established eateries that have closed their dining areas for good. In other instances, they're new restaurant startups operating out of small facilities that don't have a dining area at all. Whatever the circumstances, ghost kitchens are giving rise to the idea that delivery and curbside aren't just conveniences—they're standalone viable business models.


Delivery excellence is everything
For ghost kitchens and restaurants transitioning to delivery-only models, their success rests in the delivery experience. It needs to be as good (or better) than traditional dine-in eating. And while delivery already has a few advantages—convenience, affordability, simplicity—the quality of the food is paramount. Hence, the rise in smarter delivery practices.
The simplest, most effective way to ensure a great delivery experience is to maintain food quality. Cheesy dishes can't be rubbery and congealed by the time they arrive; they need to be steamy and gooey. Tacos can't taste stale and soggy; they should be flavorful and sturdy. The same goes for Chinese food, pizza, pasta and whatever else customers are ordering. If the food doesn't taste as good at home as it does in the restaurant, there's risk in losing patronage. This is a death knell for delivery-only businesses and ghost kitchens.
Delivery excellence hinges on the characteristics and quality of food. Temperature, consistency, mouthfeel, flavors and more are all integral factors in how food looks, smells and tastes. Preserving these qualities from the restaurant, through the delivery process, to the at-home diner, is the key to satisfied diners.


Delivery bags are a de-facto investment
Controlling food quality from the restaurant to the home of its recipient is almost entirely the responsibility of the delivery bag. And while many restaurants are still using paper and plastic bags, they leave food open to everything from the elements to uncertain handling by the delivery person.
What happens to 160-degree pasta in a foil bowl when it's transported in freezing weather, in a car that's not warmed up? How does a paper-bag sub sandwich fare when it's tossed onto the passenger seat by a delivery person? Food needs protection to ensure preservation, and that starts with the delivery bag.
Insulated, durable, appropriately-sized restaurant delivery bags are paramount, and are the first line of defense against lackluster food quality. A delivery bag that maintains temperature, protects against jostling and generally protects food from external stimuli is an investment in the success of the delivery process.


Ghost kitchens need to keep costs tight
In addition to ensuring a positive delivery experience, quality food delivery bags also serve as a cost conservation tool for ghost kitchens. Without in-house dining to buoy ticket sizes and generate add-on sales, these establishments are already running on tight margins. Good delivery bags protect against mistakes that could generate harmful costs.
Lost future revenues from dissatisfied delivery patrons
The cost of re-making orders that arrived in poor condition
Costs associated with meal write-offs for dissatisfied customers
Lower operational costs associated with disposable delivery bags
The beauty of quality delivery bags is their high ROI. While their upfront cost seems significantly higher than disposable paper and plastic bags, the savings they generate in an ongoing capacity far outweighs (and recoups) these costs.


The advantage over delivery services
The ability to deliver dine-in quality food also gives ghost kitchens a much-needed advantage of indirect competition: delivery services like Uber Eats and DoorDash. While convenient, these services can eat into restaurant margins in a variety of ways. Restaurants with their own proven delivery service can, at the very least, minimize this hit to profits by bringing more delivery business back in-house. Moreover, there's more control over reputation. Direct-from-restaurant delivery by a staff delivery person means more control over the quality of the delivered product.


Focus on delivery starts with quality
Ghost kitchens rely almost entirely on delivery to get their product int the hands of hungry customers. Future patronage depends on the quality of that food and the satisfaction of the customer. An investment in delivery bags offers opportunities for both excellence in delivery and cost-conscious ROI.
As ghost kitchens and delivery-only establishments continue to proliferate, so does demand for high-caliber delivery. It starts with a simple investment like restaurant delivery bags.