ERIC AND LLOYD'S DREAM PIZZA ROAD TRIP!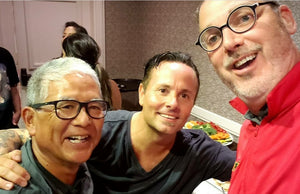 Eric and Lloyd were talking one day about a dream pizza road trip and where they wanted to eat, post COVID-19. They started throwing out names of all the places they had to go! The image above is Eric and Lloyd with 13 time World Pizza Champion Tony Gemignani!
Here is that list…
If you're wondering how these are sorted – It's reverse alphabetical because much like 2020, this year has been upside down and backwards!
They're already working on their second dream road trip!
| | |
| --- | --- |
| Restaurant – Link to Their Instagram | City |
| Wholly Stromboli - Instagram | Fort Luton, CO |
| Volo Craft Pizza - Instagram | Swampscott, MA |
| Via 313 - Instagram | Austin, TX |
| Tony's Pizza Napoletana - Instagram | San Francisco, CA |
| Tommy's Pizzeria - Instagram | Winnipeg, MB |
| The Za Report - Instagram | Brooklyn, NY |
| The Pizza Slut - Instagram | Orlando, FL |
| State of Mind Public House - Instagram | Los Altos, CA |
| Sourdough Willy's Pizzeria - Instagram | Kingston, WA |
| Slice 420 - Instagram | Colorado Springs, CO |
| Six Hundred Downtown - Instagram | Bellefontaine, OH |
| Sexton's Pizza - Instagram | Reynoldsburg, OH |
| Scarr's Pizza - Instagram | New York, NY  |
| Romo's Pizzeria - Instagram | Glenmont, NY |
| Razza Pizza Artigianale - Instagram | Jersey City, NJ |
| Raymond's Pizzeria - Instagram | Richmond, CA |
| Punxsy Pizza - Instagram | Punxsutawney, PA |
| Pizzeria Bianco - Instagram | Phoenix, AZ |
| Pizza Leah - Instagram | Windsor, CA |
| Pizza Jawn - Instagram | Philadelphia, PA |
| Pizaro's Pizza Napoletana - Instagram | Houston, TX |
| Paulie Gee's - Instagram | Brooklyn, NY |
| Paulie Gee's Logan Square - Instagram | Chicago, IL |
| Old Shawnee Pizza - Instagram | Lenexa & Shawnee, KS |
| Nina's Cucina - Instagram | Spring Hill, FL |
| New Columbus Pizza Co - Instagram | Nesquehoning, PA |
| Mia Marcos - Instagram | Selma, TX |
| Metro Pizza - Instagram | Las Vegas, NV |
| Little Pops NY Pizzeria - Instagram | Naperville, IL |
| Last Dragon Pizza - Instagram | Arverne, NY |
| La Famiglia Ristorante & Pizzeria - Instagram | Caldwell, NJ |
| King Umberto - Instagram | Elmont, NY |
| King Of Fire Pizza - Instagram | Fort Mill, SC |
| JB Alberto's Pizza - Instagram | Chicago, IL |
| Izzy's Pizza Bus - Instagram | Las Vegas, NV |
| Iron Born Pizza - Instagram | Pittsburgh, PA |
| Hella Pie Pizza Co. - Instagram | Tracy, CA |
| Good Pie - Instagram | Las Vegas, NV |
| East Village Pizza - Instagram | New York, NY  |
| E&D Pizza Company - Instagram | Avon, CT |
| Dougie John's Pizza - Instagram | Findlay, OH |
| Dough & Behold - Instagram | London, UK |
| Cascarino's Pizzeria - Instagram | Montgomery, NY |
| Carmine's Wood Fired - Instagram | Joplin, MO |
| Carmine's Pizza Factory - Instagram | Jersey City, NJ |
| Cane Rosso - Instagram | Dallas, TX |
| Brooklyn Pizza Crew/Williamsburg Pizza - Instagram | Brooklyn, NY |
| Blue Pan Pizza - Instagram | Denver, CO |
| Audrey Jane's Pizza Garage - Instagram | Boulder, CO |
| Apizza Scholl - Instagram | Portland, OR |
| Angelos Pizzeria - Instagram | Philadelphia, PA |
| Andolini's Pizzeria - Instagram | Tulsa, OK |