A Guide to The International Pizza Expo & Conference of 2023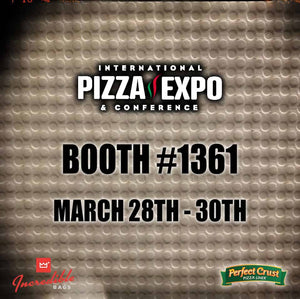 The International Pizza Expo & Conference of 2023 is the largest gathering of pizza industry professionals and insiders. From successful peers in demonstrations and seminars to vendors, competitions, parties, and events, this event will have something for everyone. Whether you own a pizzeria, operate a growing chain, or you're simply a pizza enthusiast, read on to learn more about this incredible event—and why you should attend.
Learn, connect, and eat at The International Pizza Expo of 2023
The International Pizza Expo is a yearly gathering for every element of the pizza industry, attracting attendees from the U.S. and around the world. This three-day event is packed with seminars, workshops, meet-and-greets and—best of all—delicious pizza and other foods to sample and enjoy. This year's expo is shaping up to be the biggest and most exciting one yet. Here's a taste of what you'll find at this year's event:
Education: Learn all about pizza, restaurant operations, industry trends and so much more
Workshops and seminars provide an opportunity to learn from successful peers who have faced similar challenges. This is a great way to gain valuable insight into the pizza industry through hands-on activities. Plus, there are plenty of opportunities to network with other pizzeria owners and managers.
Keynotes: Learn all about the latest trends and news in the pizza industry with two keynote addresses. Tony Gemignani, the "Michael Jordan of Pizza," kicks off the Expo in style, while Benson Tsai discusses the future of pizza, including pizza robotics.
Seminars: Discover the ins and outs of owning, managing and operating a pizza business, from seminars that discuss profit margin strategies to opening a ghost kitchen and so much more.
Workshops: Gain hands-on knowledge and experience to help you optimize your pizza business. The Expo hosts a wide range of specialty workshops, including how to launch a mobile pizzeria, how to hire and retain in a labor shortage and more.
Vendors: Shop all things pizza
Explore a wide range of businesses on the show floor. Everything from ovens and mixers to food packaging materials can be found here. It's a great way to find new products that you may not have heard about before as well as compare prices between different vendors.
Competitions: Pizza legends go head-to-head
The expo also hosts numerous competitions throughout the day. From dough-tossing contests to creating unique pizzas, there are plenty of chances for attendees to show off their skills in front of an audience of their peers.
These events are some of the most exciting parts of every International Pizza Expo. Whether you're a spectator or you want to compete and generate a buzz for your pizzeria, make sure to attend these great matchups:
International Pizza Challenge: Since 2007, The International Pizza Expo has hosted the International Pizza Challenge, the most prestigious pizza-making competition in North America. With four distinctions: traditional, non-traditional, pan and Neapolitan/STG, attend this pizza bake-off and watch and learn from the best of the best in the industry.
World Pizza Games: Want to become the top pizzaiolo? Compete in this exciting competition and try your hand at any of the match's five divisions: Freestyle Acrobatic Dough Tossing, Fastest Dough, Largest Dough Stretch and Fastest Pizza Box Folding. The competition includes the Pizza Triathlon and Tandem Team Competition.
International Sandwich Competition: Back for its third year, this competition judges the best hot or cold Italian-inspired sandwich consisting of any combination of Italian ingredients.
Parties and Events: Get to know your colleagues
There's no shortage of special events hosted by the International Pizza Expo. Meet new people or reconnect with old friends while sampling some of the best pizza in the industry—it doesn't get much better than that! Attend as many of these networking opportunities as possible to meet friends, colleagues and other professionals in the pizza industry:
Beer and Bull Networking
Pizza Games Finals and Block Party
Scott's Las Vegas Pizza Tour
Get your tickets for The International Pizza Expo and Conference of 2023!
The International Pizza Expo and Conference of 2023 promises to be an exciting event for anyone interested in learning more about what goes on behind the scenes in the pizza industry. With educational workshops, vendors showcasing their products, competitions showcasing skill levels of participants, and plenty of parties for networking—this event has something for everyone. Don't miss out on this once-in-a-lifetime experience!
Are you a pizzeria operator or manager looking to add or improve upon your delivery service? More than anything else, you need a high-quality pizza delivery bag that helps you deliver freshness to your hungry customers. Our booth for Incredible Bags and Perfect Crust will be #1361, come over and say hi!