A Bipartisan Bill May Save Pizzeria Owners Money on Credit Card Fees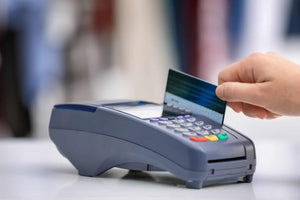 Pizzeria owners and restaurateurs across the nation are facing a financial burden caused by soaring credit card fees. Fortunately, a glimmer of hope has emerged in the form of a bipartisan bill that could potentially save them significant sums of money. The National Restaurant Association is spearheading a campaign to garner support for the Credit Card Competition Act, a legislative proposal aimed at tackling the issue of "out-of-control" fees imposed by credit card companies.
The credit card processing predicament
When customers use credit cards to pay for their meals, restaurant owners are typically required to pay an additional percentage of the total bill for processing the transaction. Over the years, these fees have skyrocketed, hampering business owners who are left with no choice but to bear the burden.
The culprits behind this financial strain are the credit card giants Visa and Mastercard, which hold a virtual duopoly over the credit card processing market. Their dominance enables them to effectively set the processing fees, leaving restaurants with little room for negotiation.
A beacon of hope: The Credit Card Competition Act
The Credit Card Competition Act of 2023 has been introduced in Congress with bipartisan support. Senators Dick Durbin (D-IL) and Roger Marshall (R-KS) presented the bill in the Senate, while Representatives Lance Gooden (R-TX) and Zoe Lofgren (D-CA) championed it in the House.
Why are restaurant owners so hopeful for the passage of The Credit Card Competition Act? If passed, the act would forbid card issuers from compelling restaurants to use their designated processing networks, potentially driving down the processing costs for operators and resulting in savings for both businesses and customers. Proponents of the bill estimate that it could save U.S. businesses and consumers a staggering $11 billion annually.
Empowering restaurant owners and alleviating burdens
Sean Kennedy, the executive vice president of public affairs for the National Restaurant Association, emphasized the importance of credit card acceptance for restaurants while highlighting the impact of swipe fees on their operations. By empowering restaurant owners to choose more cost-effective and secure processing networks, the bill could significantly alleviate the financial burden on operators and consumers alike.
Critics of the Credit Card Competition Act argue that the processing fees facilitate credit card reward programs, which offer incentives to cardholders for using their cards. They contend that these fees indirectly fund cash-back rewards and other credit card benefits. Nevertheless, the fee hike implemented by Visa and Mastercard in April 2022 alarmed both Republicans and Democrats, sparking objections from lawmakers. Despite their protests, the credit card giants proceeded with the fee increases, prompting Senators Durbin and Marshall to collaborate on the Credit Card Competition Act.

Overcoming obstacles: incorporation into the National Defense Authorization Act
The bill initially faced obstacles but has now been incorporated into the National Defense Authorization Act for 2023. Supporters of the act assert that fostering competition between payment processors is not just an economic issue but also a matter of national security. A competitive credit card processing market reduces the risk of a major security breach affecting one of the dominant payment networks.
Provisions of The Credit Card Competition Act
According to the provisions of the Credit Card Competition Act, it would be mandatory for credit cards issued by the nation's largest banks (those with assets exceeding $100 billion) to be processed through at least two separate and unaffiliated networks. This requirement aims to promote competition and allow smaller companies to enter the credit card processing marketplace.
This "dual routing" mandate for debit cards has already resulted in an estimated $9 billion in annual savings for businesses and consumers over the past decade, as cited by the National Restaurant Association.
The act also seeks to enhance national security by blocking any networks "owned, operated, or sponsored by a foreign state entity," such as China Union Pay, from penetrating the U.S. credit card market.
Synergies with existing solutions
Interestingly, the push for cost-saving initiatives in the restaurant industry ties in with an existing solution, Incredible Bags. This service already helps pizzerias save money and reduce food waste while delivering fresher food to customers. Aligning with the proposed Credit Card Competition Act could strengthen the impact of these cost-saving measures for pizzeria owners.
Hope for pizzeria owners and restauranteurs
The Credit Card Competition Act presents a beacon of hope for pizzeria owners and restaurateurs facing the financial burden of excessive credit card fees. With bipartisan support, this bill could pave the way for a more competitive credit card processing market, potentially saving billions of dollars for U.S. businesses and consumers. As the debate continues, the future of this bill may bring much-needed relief to the struggling restaurant industry.
How can pizzeria owners can improve their bottom line—right now?
As pizzeria owners wait for relief from expensive credit card fees, there's a way to improve your bottom line right now. Incredible Bags' high-quality pizza delivery bags have proven to be a valuable investment for pizzeria owners. These specially designed bags not only ensure the safe and efficient transportation of pizzas but also contribute to reducing waste and delivering fresher products to customers. By maintaining the ideal temperature and humidity levels, these bags help preserve the quality of the pizzas during transit, resulting in a more satisfying dining experience for customers upon delivery.
With less food waste and happier customers, pizzeria owners can optimize their operations and cut down on unnecessary expenses, ultimately leading to substantial savings. The simplicity and effectiveness of these pizza delivery bags make them an indispensable asset for any pizzeria looking to enhance its profitability and customer satisfaction.