6 Features That Make Incredible Bags Better Than Your Average Pizza Delivery Bag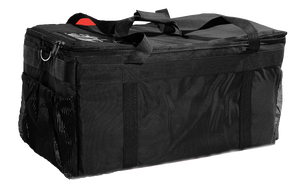 Whether you're an independent food delivery driver or you run a poppin' pizza place, you need the right equipment to get delicious food to your customers fast. It also has to be absolutely fresh.
Delivering fresh pizza and other hot foods is a challenge for new and experienced delivery drivers alike. It needs to retain that crispy crust and gooey cheese that makes a pizza what it is: one of the most-ordered and best-loved foods around the world.
You can't deliver good pizza or hot foods without a high-quality bag. Investing in quality ensures that each customer receives fresh and delicious food, even if your customer is right at the edge of your delivery range.
Here's how pizza bags from Incredible Bags take your pizza delivery service to the next level.
1. Insulation on all six sides
Insulation keeps hot foods hot for longer. In between the outer layer of fabric and the inner lining, insulation reduces heat conduction and helps the product inside retain its stored heat, preserving its freshness and adding to its appeal once the pizza hits the customer's table. This is incredibly important in the delivery industry, where you want to maintain that perfectly crisp crust and gooey melted cheese that your hungry customers have come to expect.
2. Gusset sides fold inward to trap heat
Quality insulation is just one way our bags help pizza and other hot foods retain stored heat. The design of the bags themselves keeps food warmer, since the sides fold inward when the bag closes, sealing in the heat and keeping your food fresh. In combination with appropriate vents to allow steam to exit the bag, you can always count on delicious pizza and other hot foods that are perfectly crispy, never soggy.
3. Velcro strips to secure flaps
Substandard pizza bags have a zipper enclosure, some straps and not a lot else. Incredible Bags pizza delivery bags feature superior construction, including Velcro strips that hold flaps firmly in place. Strong Velcro ensures you can fill bags to capacity without worrying about them ripping open when they're stuffed with pizza pies. That means no more wasted trips for delivery drivers, increasing your bottom line and keeping your customers happy.
4. Two-way industrial zippers and reinforced stitching
Average pizza delivery bags fall apart quickly due to poor design and construction. What makes Incredible Bags different is the quality design and workmanship you can feel in every bag. Two-way industrial zippers make it easy to open and close the bags, which is key in the business of food delivery where time is always of the essence. Pizza bags take a lot of wear and tear as delivery drivers lug them in and out of the pizzeria and their car. Incredible Bags feature reinforced stitching to ensure that your investment lasts as long as possible.
5. Removable silver reflective lining
Making and delivering pizza is a messy business by nature. Melted cheese—not to mention all the toppings on the pizza—can create a good amount of grease, and grease gets messy. No matter how careful you are, there's no foolproof way to protect the inside of the bag from spillage when it comes to greasy food. The liners can be taken out and cleaned as needed, to ensure safe delivery and ideal food quality. As a bonus, silver reflective material improves heat retention, to keep fresh-baked pies hot and fresh, all the way through delivery.
6. Hardboard interior dividers
Interior dividers make it easy for your driver to keep track of separate orders. There's nothing that damages a food delivery service's reputation like mixing up orders. Interior dividers help drivers keep track of what food goes where. It also makes it simple to carry both hot and cold items in the same trip. This is especially helpful for eateries that have more on the menu than hot pizza. Dividers help you keep pizza piping hot on one size, while the other side keeps cold sandwiches, sodas and other cool items at the temperature they need to be.
Dividers can also prevent cross-contamination which is especially important for customers with food allergies or specific dietary restrictions.
Deliver consistency with quality bags
Incredible Bags helps you deliver consistency. When you want to keep pizza or other hot foods fresh during delivery, there's really no other choice. Invest in a quality pizza bag from Incredible Bags and ensure that every customer can appreciate delicious, fresh food with every order.