America Loves Pizza: Some Surprising Facts About American Pizza Consumption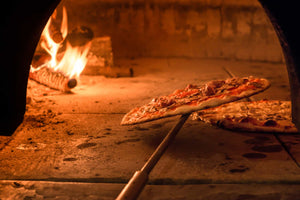 It's no secret that pizza is one of America's all-time favorite foods. From thin crust to deep dish, Chicago-style and anything in between, the pizza pie is a beloved dish for Americans of all ages. Initially, pizza was considered a food for the working class, but as the years went by, pizza became increasingly popular with Americans of all backgrounds.
Today, pizza is everywhere in the United States, from small mom-and-pop pizzerias to giant national chains. Read on to learn about some surprising facts about pizza in America. 
How Much Pizza Is America Eating?
Pizza is almost a national obsession in America, and the numbers don't lie. According to a survey by Mintel, an estimated 93% of Americans eat pizza at least once each month. 
But just how much pizza is America eating? It's estimated that Americans consume around three billion pizzas each year—enough to circle the earth 15 times! That's 350 slices of pizza eaten per second, or 100 acres of pizza eaten every day, according to the National Association of Pizza Operators. 
America's Favorite Topping Might Surprise You
Pizza lovers everywhere can now rejoice, as the age-old question of the most beloved pizza topping has finally been answered. According to a 2016 HarrisPoll®, the clear winner is none other than the irresistible pepperoni. This classic topping has been a go-to for pizza enthusiasts for years, satisfying taste buds with its savory, slightly spicy flavor. 
While there are plenty of other tasty toppings to choose from, including the always-popular sausage in the number two spot, it's clear that pepperoni has secured its place as the king of pizza toppings.
Americans Enjoy the Big Game With Their Favorite Pizza Pie
Super Bowl Sunday is a great American tradition, a day when millions of viewers tune in to watch the biggest game of the year. It is also the biggest day for pizza delivery in the U.S. It's no surprise that pizza is the go-to choice for Super Bowl parties. The convenience, the variety of toppings, and the affordability make it the perfect food to fuel the intense and exciting atmosphere of the game. 
In fact, pizza is so popular on Super Bowl Sunday that it beats delivery sales on any other day of the year. And let's not forget about the other pizza-heavy holidays like Halloween, the day before Thanksgiving, New Year's Eve, and New Year's Day. It's clear that pizza and celebrations go hand in hand in American culture.
There's an Annual Expo Dedicated to Pizza in Las Vegas
For pizza enthusiasts, there's no better place to be than at the annual International Pizza Expo in Las Vegas. As the largest pizza industry show in the world, the expo is designed to bring together pizzeria owners, operators, distributors and food brokers from all corners of the globe. This is where ideas are exchanged, trends are analyzed and the latest in pizza-related technology is showcased. For those lucky enough to attend, the International Pizza Expo is a veritable mecca for pizza lovers everywhere.
Pizza Isn't Just for Lunch or Dinner
Could pizza really be a breakfast meal? According to a recent survey, 36% of Americans believe it to be true. Many speculate that this could be due to leftover pizza from the night before, but others argue that pizza just tastes better in the morning. Whether you're a traditionalist who sticks to cereal or a pizza enthusiast, there's no denying the versatility of this beloved dish. So go ahead, indulge in a slice of breakfast pizza – it might just become your new favorite way to start the day.
Deliver Piping Hot Pizzas With High-Quality Pizza Delivery Bags
In the fast-paced pizza industry, delivering hot, fresh pies to customers can make or break your business. That's why investing in high-quality pizza delivery bags is a must-have for any busy pizzeria or pizza chain. At Incredible Bags, we understand just how important it is to keep your food at the perfect temperature during transport. 
Our pizza delivery bags have been designed with your business in mind, keeping your pizzas hot and your salads cool. With durable construction and easy-to-use zippers, you can rely on our bags to prevent failed deliveries and ensure customer satisfaction, leading to increased profits and a better bottom line. Trust us to deliver the best pizza delivery bags for your business.