The Best Restaurant Bags for the Money: 6 Key Features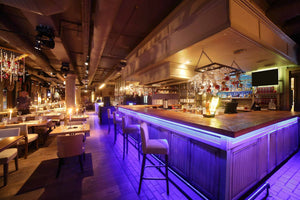 Are you an independent delivery driver looking for a high-quality delivery bag that makes your job easier? Or do you own a busy restaurant and need the best restaurant delivery bags to make sure every customer order reaches their doorstep safely? If you're in the food service business, you know that customers want their food fast and they want it fresh, and you need the right delivery bags to get the job done.
Whether you serve piping hot pizza or cold sandwiches and salads, delivering fresh food at the perfect temperature can be a challenge. You can't deliver great hot or cold foods without a high-quality delivery bag. While there are plenty of substandard options on the market, you'll find that delivery bags from Incredible Bags are an excellent investment that pays for itself in the form of more completed deliveries and happier customers. Here are six features to look for as you search for the best bag for your food delivery business.
1. Removable liners are easy to clean
Food delivery is a messy business, no matter what type of food you serve. And no matter how careful your delivery team is while packing food deliveries or handing items to customers, there's really no foolproof way to protect your delivery bags from spilled food. Luckily, the liners in every Incredible Bags food delivery bag can be removed and cleaned quickly and easily as needed. Stains or spills are no match for the reflective lining, which means it's easy to keep your bags clean and smell-free.
2. Silver reflective lining keeps food fresh
Incredible Bags food delivery bags include a silver reflective lining that keeps hot food hot and cold food cold, providing great versatility for restaurants offering both types of menu items. A silver lining is more reflective than other lining materials, improving both temperature retention and moisture levels within the bag to keep your food as fresh as possible on its journey to the customer. You can have confidence that when food arrives at your customer's door, the quality is just as great as if they came to your restaurant.
3. Double-stitched seams create durability
Low-quality delivery bags are made with substandard design and construction methods, and they tend to fall apart right away. The best delivery bags on the market, like the ones at Incredible Bags, feature reinforced stitching that provides exceptional durability. The high-quality stitching means a longer-lasting bag and a better return on your investment. It also means the bags can accommodate heavier orders, so your delivery team can make the most of every trip.
4. Two-way zippers prioritize accessibility
Delivering food isn't as easy as it seems—when delivery drivers reach their customer's doorstep, they're juggling a variety of tasks like greeting the customer, handling the bag, giving the customer their receipt and so on. The quality design of Incredible Bags food delivery bags features two-way zippers that make it easy to open and close the bags. The smoother access makes the driver's job much easier and also lowers the risk of spillage when they're getting food out of the bag.
5. Velcro handles make deliveries easier
Most delivery bags on the market feature a few straps and a zipper enclosure made with substandard materials. Incredible Bags' delivery bags are well-constructed with Velcro handles that hold the straps in place, making it easy for delivery drivers to grab, lift and maneuver the bag. The added stability and durability mean you no longer have to worry about the bags ripping open and your product slipping out during delivery. The result is more completed deliveries and happier customers.
6. A hardboard divider keeps food secure
Every Incredible Bags insulated delivery bag features a hardboard divider that allows for greater flexibility in your delivery operations. Now, you can keep hot and cold food separate in the same order. The divider can also be used to keep orders separate within the same bag, so your delivery driver can maximize their efficiency and transport multiple orders in the same trip. And since the divider is made of high-quality hardboard, it won't ever get crushed or warped in a full bag.
Today's customers expect consistency, and with a high-quality food delivery bag from Incredible Bags, your food service company can provide it. Food delivery bags from Incredible Bags are a simple investment that ensures that fresh, flavorful food arrives safely at your customers' doorstep, every time they place an order.