How to Choose the Best Pizza Bags for Your Restaurant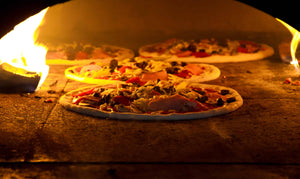 Pizza places rely heavily on delivery business, which means investing in the best pizza bags not only ensures a hot, fresh pizza when it arrives in your customer's hands, but also stands up to heavy wear and tear. Pizzeria owners need to ask themselves several important questions as they choose the right delivery bag for their business—the quality of the bag can make it or break it when it comes to fresh pizza delivery. Here are some of the considerations to keep in mind as you choose the best bag for your delivery service.
How many deliveries will you make each week?
Most pizzerias deliver hundreds—or even thousands—of pizzas each week. That means every pizza place needs a bag that can hold up to heavy wear and tear, as bags are lugged in and out of the restaurant and vehicles on a day-to-day basis. If you want the best return on investment from your next pizza delivery bag, you need a bag with reinforced features like double-stitched seams and hardboard inserts.
Double-stitched seams give you peace of mind that your delivery bag won't rip or tear as your driver transports orders from your shop to the customer—no matter the size of the order or how full the bag is. And with hardboard inserts, you can keep orders separate to make things easier on your delivery driver, and you'll never have to worry about food being crushed no matter how full the bag is. The inserts also allow you to separate hot and cold foods, so you can deliver both with exceptional freshness.
What's your maximum delivery radius?
Having a large delivery radius means you're able to serve more customers, but it also makes delivering fresh food much more challenging. The further you deliver, the longer the drive and the longer the pizza needs to stay hot.
If you're delivering pizzas far distances, you need an insulated bag that can keep the pies at a consistent temperature on their journey to the customer. Incredible Bags heavy-duty pizza delivery bags include reflective linings that regulate the temperature and moisture levels inside the bag. Nobody wants a cold pie, and insulated bags from Incredible Bags ensures the best pizza delivery quality, every time your customers place an order.
What's your average delivery distance?
If you have a large delivery radius but most of your deliveries are closer, you might not need to invest in a heavy-duty delivery bag. Instead, you might invest in one that has a removable liner that you can affix for long deliveries and leave out for shorter ones. Incredible Bags' pizza delivery bags feature an easy-to-remove silver reflective lining that regulates the temperature inside the bag, so you can take it out for shorter deliveries if you need to accommodate more pies.
What size pizzas do you offer for delivery?
What sizes of pizza does your restaurant offer? Are most of your customers buying extra-large pies, or do they usually go for personal-sized pizzas for one? The size of the pizza you serve dictates the size of the bag you need for your delivery service. Make sure you're choosing a delivery bag that can accommodate the various sizes of pizza you offer.
Do you deliver anything other than pizza?
If you own or run a restaurant that delivers more than pizza, it's a great idea to invest in a more general restaurant delivery bag that can accommodate items like salad and pasta. Incredible Bags' full line of restaurant delivery bags includes compartmentalized bags that make it easy to divide different types of food and keep them fresh throughout their entire journey from your restaurant to the customer.
The durable hardboard interior dividers not only keep food safe and prevent crushing in transit, but they also serve as a temperature barrier. It's easier than ever to keep hot food like pizza on one side of the bag, while sandwiches, sodas, salads and other cool items stay at the temperature they need to be on the other side.
Consider what you need before you buy your restaurant delivery bags
Pizza delivery bags are an investment, and you need to look at all your options carefully to make sure you choose the right ones for your business. Incredible Bags has you covered with pizza delivery bags that are built to last and include all the features required to deliver fresh, hot pizza to your customers, every time.