Doing the Math on Pizza Delivery Bags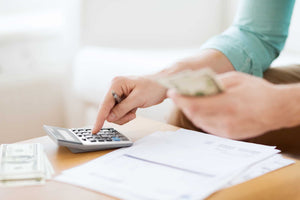 Looking for the right equipment to support your pizza delivery business? Something as simple as the right pizza delivery bag can not only improve your overall bottom line, but also keep your hungry customers happy.
A quality pizza delivery bag reduces the chance of failed deliveries, and it can keep foods fresh until they reach customers' doors. While you have to pay an upfront cost for every pizza delivery bag you buy, a high-quality bag will pay for itself over time—and can even generate more revenue down the road.
Here's what you can expect to pay for a great pizza delivery bag, and what you have to gain from your investment.
How much does a pizza delivery bag cost?
When it comes to pizza delivery bags, you get what you pay for. You could take the bargain route and end up with a bag that you have to replace after just a few uses—or, you could invest in high-quality delivery bags that not only withstand the everyday wear and tear of your delivery operations, they also keep foods fresh and keep customers happy.
Luckily, you don't have to break the bank to invest in high-quality pizza delivery bags for your restaurant. Here's a breakdown of what you can expect to pay for a quality pizza delivery bag:
$25: If most of your deliveries are small orders, like a few large pizzas at a time, you can get away with an upgraded fabric bag in this price range. You'll get an insulated bag that keeps several pizzas fresh.
$35: Does your restaurant deliver both hot and cold foods? Invest in a two-compartment bag in this price range to deliver several pizzas at a time, along with cold salads or sandwiches.
$60-75: This price point covers the top-of-the-line pizza delivery bags—a true investment in your delivery operations. You'll get a large hard-sided bag that's durable and keeps pizzas hot along their journey to the customer.
How much is a pizza delivery bag worth?
In reality, a pizza delivery bag is worth much more than the upfront price you pay for it.
For example, consider your delivery failure rate without a pizza delivery bag. If your restaurant makes 40 deliveries per day and your current failure rate is around 10%, that's four deliveries per day that you have to refund, or make right in another way. If your average ticket comes in around $20, that's $80 you're sacrificing every day. Keep in mind, that's also four customers who've had an unpleasant experience with your restaurant.
Delivery failures not only cost your business money in the short-term, but also in the long-term when it comes to your reputation. Investing in a high-quality pizza delivery bag just makes practical sense.
What is the lifetime value of a pizza delivery bag?
Taking the numbers used in the previous example, if you're saving $80 a day by using a pizza delivery bag to avoid failed deliveries, that's $560 you're saving each week. Calculated annually, your savings could reach $29,000! These numbers add up fast, and they can all be attributed to a simple investment in a high-quality pizza delivery bag.
In addition to the financial benefits that come when you eliminate failed deliveries, you're also ensuring your customers are satisfied with their food and their overall experience with your restaurant. In today's competitive environment, that customer satisfaction is worth more than its weight in gold!
What is the unrealized value of a pizza delivery bag?
Pizza delivery bags can do much more than help your restaurant transport fresh, piping-hot pizza pies to hungry customers. They can also open up new avenues for your restaurant to generate revenue.
For instance, high-quality pizza delivery bags can help you expand your delivery offerings to both hot and cold foods. These insulated bags have dedicated hot and cold sections, separated by an effective barrier, so foods stay at an ideal temperature. If you're delivering salads or cold appetizers or sandwiches that pair perfectly with your fresh pizzas, a quality hot-cold bag is an investment that pays off right away!
Also, consider the size of the bag you need to support your delivery operations. Investing in a larger delivery bag—made with high-quality materials to ensure every pizza gets delivered safely—makes it easier to deliver pizzas in bulk, saving your driver time while boosting your order capacity.
All in all, a high-quality pizza delivery bag—one with all the features you need to support your operations—directly leads to more bottom-line profit.
Look at pizza delivery bags as an investment
Even something as utilitarian as a pizza delivery bag should be seen as an investment. It ensures the food you're serving stays fresh, from the oven to the customer's doorstep. But remember: not all pizza delivery bags are made with a design and quality materials that can keep food at the ideal temperature. To take full advantage of the bottom-line savings and revenue opportunities discussed above, you'll need to make an upfront investment in a quality pizza delivery bag.