4 Ways to Be a More Sustainable Pizzeria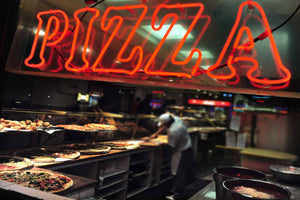 Today's consumers care about causes, and that includes environmental ones. For businesses in all industries--including the food service industry—sustainability is non-negotiable. Consumers are not only aware of a business' approach to sustainability, but they use it as a factor to make everyday decisions on what businesses to support, including where they dine. 
Pizzerias should embrace sustainable goals. Aside from doing good for the planet and pleasing their customers, there's a dollars-and-cents argument for adopting sustainable initiatives at your pizzeria. Eco-friendly products and practices often deliver significant savings on energy, water, waste, and food costs. Here are four effective ways you can support sustainability at your pizzeria.
Choose sustainable containers
Across the country, pizzerias are adopting more sustainable practices, starting with the containers they use. Instead of traditional plastic bags and straws, as well as Styrofoam containers, pizza shop owners are investing in more environmentally friendly options—especially when it comes to pizza boxes.
If you aren't already using 100% post-consumer recycled pizza boxes, ask your current vendor if they offer them or look for a new one who does. Instead of using pizza boxes—and even napkins—made from virgin trees, recycled boxes significantly reduce your impact on the environment. Be sure to inform customers that your boxes can be recycled, too, by including a simple message on your box and other packaging.
Recycle whenever possible
Recycling keeps waste from landfills and gives products a second life and--as a bonus--they can lower your pizzeria's waste-hauling charges by hundreds, and maybe even thousands, each year. You should compost food waste, as well as compostable plates, take-out containers, and napkins. You should also reach out to your grease collection company, since FOGs (Fats, Oils, and Greases) can't be recycled. Ask your grease collection company if they offer programs to recycle meat byproducts to collect fat and bone and reuse it in an eco-friendly way.
Prevent food waste
According to research from the U.S. Environmental Protection Agency, more food enters landfills and combustion facilities than any other material you'll find in everyday trash. As food rots over time, it produces a harmful greenhouse gas: methane. There's one great way to reduce food waste without shrinking your menu or reducing portion sizes, and it's by investing in high-quality pizza delivery bags. 
Failed deliveries is one of the top causes of wasted food for pizzerias. As delivery drivers go from your restaurant to the homes and businesses of your hungry customers, there's a high likelihood that food can be dropped—or, just as bad, arrive at your customers' doorstep cold and less-than-fresh. Failed deliveries not only result in wasted food, but also wasted profits for your business, and investing in the durable, heat-keeping pizza delivery bags can make all the difference.
Incredible Bags' pizza delivery bags are built to last, and they're designed with features that ensure perfect deliveries, every time. From reinforced straps to easy-to-use zipper enclosures, high-quality pizza delivery bags make it easy on your drivers to deliver fresh pizza pies safely and efficiently. And with interior reflective linings, both hot and cold items stay at an ideal temperature—from your shop all the way to your customers' tables.


Reduce water use
Water is a precious resource, and reducing wasted water is a big step that pizzerias can take to protect the environment. While you may already have high-efficiency fixtures in your kitchen, you should look for the most efficient spray valve you can find. These fixtures often cost less than $100, and they can easily pay for their investment within a matter of months in the form of water savings. It's also a great idea to make sure any hand washing sinks and bathroom fixtures have efficient aerators, reducing the amount of water coming out of the faucets to conserve both water and energy at the same time. 
Sustainability is good for the planet and your business
Keep in mind that sustainability is a team effort, and it takes mindful action from everyone on your staff, from delivery drivers to dishwashers, pizza chefs to waitstaff. After all, what good are your sustainability efforts if workers simply toss everything into the trash? By promoting sustainable goals in your pizzeria—and investing in sustainable products like Incredible Bags' pizza delivery bags—you can put sustainable practices in place and do good for your planet, as well as your business' bottom line.